The United States military (as a whole) has the largest workforce in the world. It is a high-turnover environment, with new recruits joining and experienced operators leaving on a regular basis. Consider what this means for training. VR & AR also provide a platform to organize and understand real-time information through simulations and for time sensitive operational support that can save lives and prevent casualties.
From crucial disaster relief to austere environments, immersive technology offers many ways to assist. The cost of equipment that the military depends on for highly important tasks in turn costs significant funds to train on, operate, maintain, and transport – all of which can benefit from VR and AR technology. Imagine how much the country could save on military spending by using VR and AR to scale training opportunities across distant geographies where expensive equipment can be accurately simulated. Additionally, providing simulated environments can replicate dangerous situations when we can't actually place human lives at risk.
On February 1st join us, folks in the military, and some of those creating immersive applications for military use cases as we learn how VR and AR is enhancing the next evolution of the military.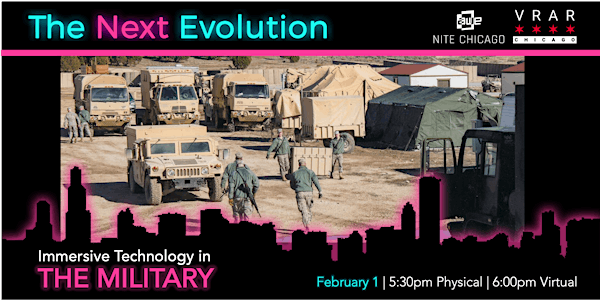 Thank you to our sponsors, 1871, BUNDLAR, and Virbela for providing venue, management, marketing & logistics support and to our partners 2112, VR Motion Learning, XR Women, & International Game Developers Association Chicago (IGDA Chicago) to the VRAR Chicago event series: The Next Evolution | AWE Nite Chicago.